Search Essential Oil Recipes
Custom Search
Aromatherapy Supplies
I am often asked to recommend where to buy Aromatherapy Supplies from. It is all well and good to have these wonderful recipes but where do you buy the essential oils, the raw ingredients, and other essential aromatherapy supplies for making your own aromatherapy perfumes, blends, natural skin care products, and more ...
It's important that you use top quality ingredients and that you buy your aromatherapy supplies from reputable sources. This list of suppliers which I have compiled will help you find the very best that I personally recommend for purchasing Aromatherapy Supplies.
I've also included some natural skin care products, which if you're like me you may not always have the time to prepare these yourself. I know how time consuming it can be making many of these essential oil recipes, especially some of the natural skin care recipes, so having some natural skin care products is always useful.
---
Mountain Rose Herbs is another excellent supplier of many different products including 100% pure essential oils, hydrosols, carrier oils, clays, salts, butters, waxes, candles, organic herbs, aromatherapy diffusers and burners, many tpes of containers, bags and packaging and lots more.
I've always had great feedback from people using Mountain Rose Herbs as their aromatherapy supplier and everyone loves their monthly specials.
---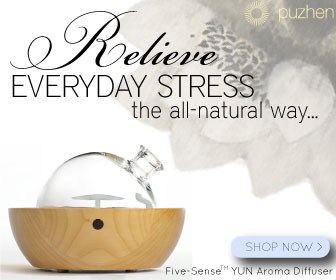 Puzhen offers an excellent range of top quality essential oil diffusers to suit everyone's tastes and budget. My favorite is the Yun Five-Sense ® Aroma Diffuser which gently diffuses essential oils, purifies the air and has optional built-in soothing music or you can connect your own MP3 player. It also has beautiful LED lights and comes with a remote control. It truly is an art piece in itself.
I also really love the simplicity of the Touch Aroma Diffuser which cleverly turns on when you glide your fingers over any part of its ceramic body. Warm LED lights will gradually fade up or down at the touch of a finger.
Check out more of their unique aromatherapy diffusers here.
Please check back regularly to this page as I will be updating it as I find more aromatherapy supplies that I recommend.